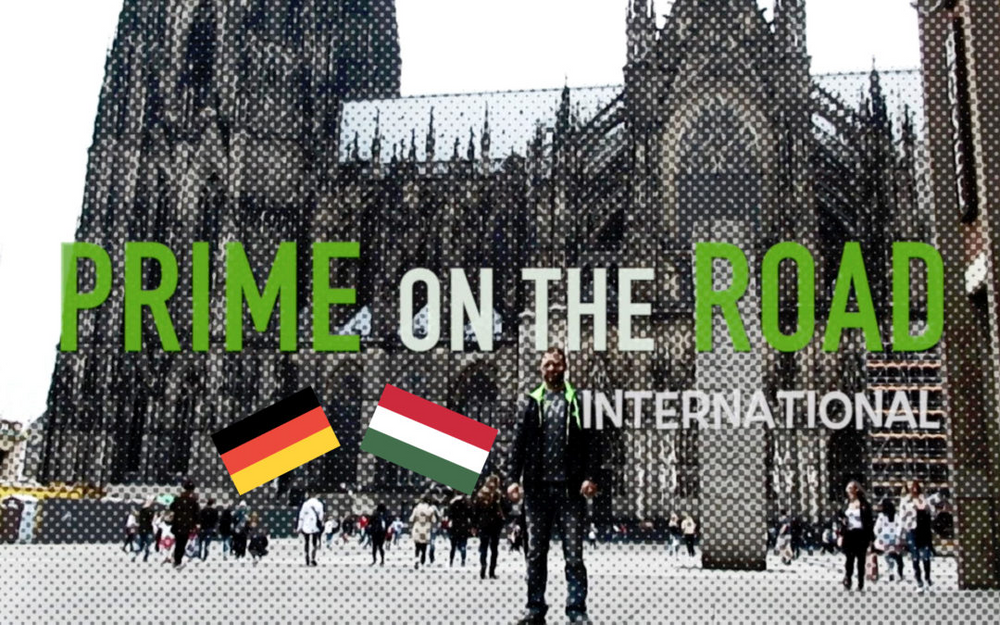 We're back! What an amazing trip.  Our first international PRIME On The Road was a smashing success.  The trip totaled 9 days of travel featuring 2 destinations – Cologne, Germany and Budapest, Hungary.
First stop, Germany.  While this wasn't our first trip to Cologne, Germany for FIBO (this was actually our 3rd consecutive year exhibiting at FIBO), it was undoubtedly our best (although it didn't necessary start out that way). The trip started with a direct flight from Newark, NJ to Frankfurt Germany.   After an hour of sitting on the runway, our captain informed us that due to a technical issue, we would be forced to de-board the plane and wait for a new one to carry us across the pond… 3 hours later we were airborne.  The delay did more than make a long trip longer, it also caused us to miss our scheduled train from Frankfurt to Cologne, adding another hour to the total travel time. All is well that ends well, we made it (albeit later than we anticipated) to our hotel in time to crash and catch up on sleep before the set-up day at FIBO.
Setting up for the show was fairly painless.  Months before the we were demoing at the show (HUGE thanks to Koen and his team at VOF Strength House gym in Belgium – if you are in the area, it's a must visit), so being that we weren't shipping anything back to the States after the show, we had a pretty limited set up.  At FIBO 2017, we took a fairly substantial inventory of RO-T8 Handles to sell out of the booth. Based on the prior year's success, we decided to take a larger inventory of all of the products in the RO-T8 Family.   What happened next we could have never seen coming.  Roughly 6 hours in to the first of four days of FIBO, we had essentially sold out of product.  The overwhelming demand was more than we could have expected, and we are truly humbled by the support and response from everyone that joined the #ROT8Revolutoin at FIBO!  Beyond the accessories, we also had great conversations and meetings with international customers and dealers.  It's awesome to see the growth of brand PRIME and how people from all corners of the world are understanding the value of training with PRIME's SmartStrength technology.
FIBO 2018 was a smashing success!  We are already making big plans for 2019, so be sure to visit the show and swing by the PRIME booth to say 'Hello'!
After tearing down the booth, we left the show around 9pm on Sunday.  After a quick dinner it was time to cram as much sleep in as possible before our 6am flight to Budapest…
The origin of our travels that took us to Budapest started a year ago, at FIBO 2017.  Our good friend Eric The Trainer introduced us to Adam, the owner of FLEX Gym.  Adam was so impressed by PRIME, he actually purchased a variety of the show units from the FIBO booth.  We gave him our word that one day we would come visit Budapest and FLEX Gym.  As we planned our FIBO travel, adding a few days in Budapest was a no brainer.
We landed in Budapest around 7:30am, and upon exiting the plane, we were met by 2 beautiful ladies holding a sign with our names on it.  After a lovely private ride to baggage claim, we were escorted outside where Adam was waiting for our arrival. This was the first sign of how amazing Adam's hospitality would be throughout out stay.  In the short drive from the airport to our hotel, you could actually feel the history and culture of Budapest.  The age and allure of the city was only matched by the pride and passion of its people.  Everyone, and we mean EVERYONE, we met in Budapest were amazing and so eager to share their city with visitors.   After a quick breakfast and tour of the area, we headed to the gym.
You probably have never been to a gym quite like FLEX Gym, because its equal probably doesn't exist.  Yes, it's hardcore.  Yes, it's a bodybuilding gym. Yes, they have unbelievable equipment.  All things you'd expect from one of the most elite gyms in the world.  But what makes FLEX Gym so unique is Adam's passion for iron sport that is all over the place. The gym could easily double as a museum – signed pictures, posters, and memorabilia from the who's who of bodybuilding pepper every square inch of the walls. The steps that lead to all 4 floors of the gym are labeled with the names of the best bodybuilders of all time.  Upon entering the gym, you are met with a larger-than-life statue of The Incredible HULK (wearing a custom FLEX Gym tank top of course), directly adjacent from a life-like mannequin of Arnold from Terminator 1.
After a tour of the gym, we knocked out a quick back workout (the PRIME Extreme Row punished us) and headed back to the hotel to catch up on some much-needed sleep before dinner.
Prior to the trip, we told Adam we wanted the full Budapest experience, and he delivered. We headed to one of the oldest most traditional Hungarian restaurants in the city. The building must have been 1,000 years old and had a vibe that only centuries can create.  After several minutes of a conversation in Hungarian that we understood exactly 0% of, Adam told us we ordered a "sampling of Hungarian staples".  After 3 or 4 courses that included goulash soup, a salad of pickled vegetables, and entrees with beef, chicken, and dumplings – we officially entered a food coma – and it was amazing.
The next day took us back to FLEX Gym for a shoulder and biceps workout with Adam and Kiss (yes, his name is actually Kiss) one of the head trainers at the gym.  After several sets of DB presses, lateral raises and seated high rows on the cable machine, we finished the workout off the PRIME Hybrid Arm Curl, running through sets 1, 2 and 3.  Adam and Kiss were awesome training partners. It's always fun to talk about exercise science and share training philosophies.   Sore and tired, we finished filming at the gym and headed out for some last-minute shopping and sight-seeing.
All in all, the trip was a 10 out of 10. We can't thank everyone enough for their support, hospitality, and friendship.  We can't wait to get back 'on the road again'.
Till next time – #FindYourPRIME